Thanks to the gentle processing, the full fruit flavor is preserved. Our fruit bombs are a great addition to cereal, porridge, in a smoothie or shake, or solo as a snack.
Simply natural – in our products you really only find what is written on them. We rely on simple and selected ingredients – without frills.
We do not use any colorants or flavorings. With us you get 100% natural ingredients – nothing else. Many of our products are vegan and free from any additives.
Whether blueberries, red berries or strawberries … thanks to our freeze-dried fruits you can easily enhance your breakfast and look forward to a unique taste experience. Perfect in yogurt or cereal, as a smoothie or just for snacking!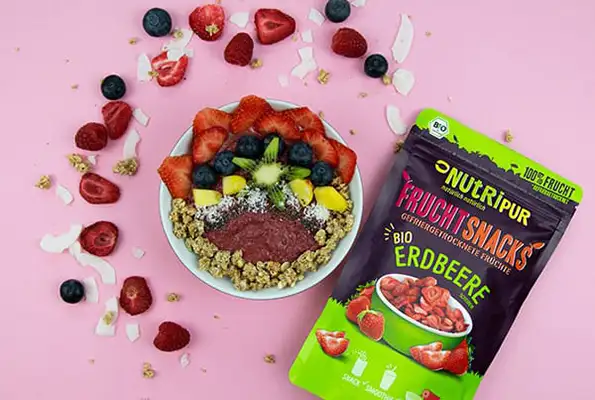 Some selected freeze-dried fruits as well as fruit mixtures are available in BIO quality. These come from controlled organic cultivation. Enchant your breakfast, yogurt or cereal, smoothie or snack in a fruit experience for all senses!
Already snacked today? Our fruit snacks are ideal for those who love sweets, but still value a conscious diet. Whether red berries or cherries, sweet or rather tart – the NutriPur fruit blends taste simply great and provide the perfect energy kick at the same time!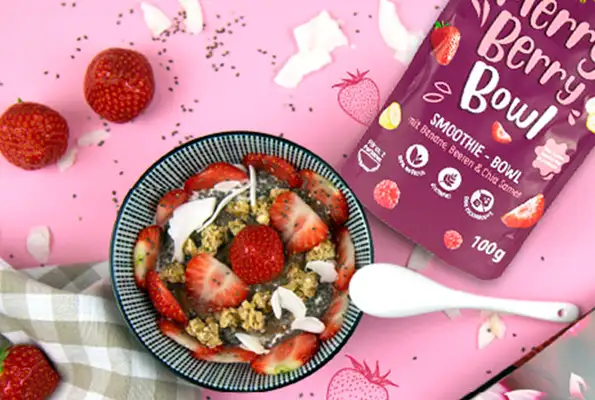 Superfoods are on everyone's lips – literally. It has long been impossible to imagine modern, conscious nutrition without these little wonders. Chia seeds, ginger, turmeric… our superfoods are not only really delicious, they are also a real benefit for body and soul. For example, you can boost your immune system with our ginger shots or always have a wholesome breakfast to go in your fridge with the practical chia drinks.
NutriPur - online store for freeze-dried fruits freeze-dried strawberries and raspberries, dried fruits and superfood. For your cereal and smoothie, in porridge or as a snack.
Healthy foods are boring, monotonous and taste like nothing? Not with NutriPur! The days when "conscious nutrition" automatically meant bland fruits and vegetables or tasteless cereal are over. Eating healthy has become a real lifestyle. Right, as we think. And that's exactly where we start with our products: Your nutrition should not only be good for body and soul. It should be colorful, fun and provide you with all the essential nutrients.
You will find all these properties in the NutriPur products.
NutriPur is your online store for conscious, natural nutrition! With a wide selection of freeze-dried fruits. Freeze-dried strawberries and raspberries, dried fruits and fruit mixtures.
Freeze-dried fruits, dried fruits, cereals and superfoods. Our assortment is diverse, so there is something for every taste: from freeze-dried fruits and fruit blends to valuable superfoods. Discover our selection and experience for yourself how varied delicious food can be!
Looking forward to breakfast in the evening? No problem, thanks to the delicious products of NutriPur.
With our flexible, energy-giving fruit powders, superfood bowls, crunchy toppings and more, your breakfast will not only look good, but also provide power and a good mood – the perfect start to the day!
As the name NutriPur suggests, our products are one thing above all: natural. With us, you can be sure that what's in it is what's on it – and that's exclusively natural additives. Forget dyes, flavorings and other bells and whistles and instead go for 100% natural with 100% flavor!
And best of all: You can order all NutriPur products conveniently in our online store and have them delivered to your door! Or you can also find the freeze-dried fruits at EDEKA, REWE and Globus.
Try our assortment and look forward to delicious and conscious nutrition that is equally good for body and mind.
NutriPur stands for 100% natural ingredients. All products are free from colorants, preservatives and flavorings.
The freeze-dried fruits are harvested sun-ripened and then frozen. When frozen, liquid is extracted from the fruit in a vacuum. The water content of approx. 90% evaporates as a result. What remains is 100% fruit with 100% aroma.
Unlike fresh fruit, bowls & smoothies, NutriPur products have a longer shelf life due to gentle processing.